At this time of year you may be energetically and economically burnt out so here at Dunphy Medical we'd like to share some easy and cost-effective tips to have you on-track for the new year.
1.  Golden Honey – Honey is delicious and has antiseptic and  anti-bacterial properties and turmeric is an immune-boosting powerhouse, it is an excellent antioxidant and antibiotic; it has cancer-fighting properties and it is also anti-inflammatory. It has been used in Ayurvedic and eastern medicine for thousands of years, partly thanks to curcumin, it's active phenol which also causes turmeric's yellow colour.
Golden Honey is simply a mixture of these two ingredients, just mix 1 tbsp of tumeric powder with 100gr of raw organic honey, store in a clean glass jar, you can leave it at room temperature and take a spoon as needed. 
http://www.WithFoodandLove.com recommends taking a spoonful directly in your mouth, or diluted as a drink with hot water, or taken as a spread on toast to ward off allergies in spring time.
And upon the first symptoms of colds and flu, http://www.BestHerbalHealth.com recommends keeping the Golden Honey mixture in your mouth until it completely dissolves for:
Day 1 – Take ½ tsp. every hour during the day.
Day 2 – Take ½ tsp. every two hours during the day.
Day 3 – Take ½ tsp. three times a day.
Golden Honey is also useful to combat respiratory diseases and it lowers blood pressure, and turmeric reduces blood sugar levels.
Turmeric also causes muscle contractions of the gallbladder so avoid turmeric if you suffer from gallbladder disease.
2. A turmeric, lemon, cinnamon and black pepper drink is delicious, quick, healthy, warming and cheering at this time of year.
Simply add a pinch (or two) of turmeric, a pinch of cinnamon and a grind or two of black pepper to some hot water with some sliced lemon. Stir occasionally as the spices can sink to the bottom.
Black pepper makes the wonder-spice turmeric more easily absorbed by the body and cinnamon, along with tasting yummy and festive, also boasts anti-inflammatory properties and helps regulate blood-sugar levels.
According to the U.S. National Library of Medicine, cinnamon is used to help treat muscle spasms, vomiting, diarrhea, infections, the common cold, loss of appetite, and erectile dysfunction.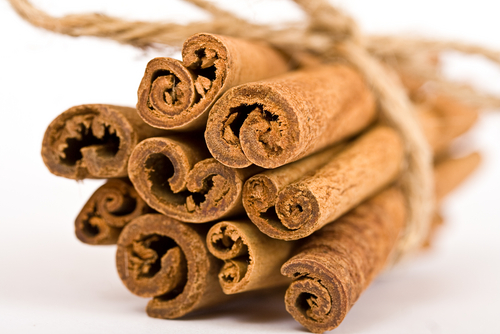 According to a study in Diabetes Care, cinnamon may help improve glucose and lipid levels in patients with type 2 diabetes, and at Tel Aviv University researchers discovered that cinnamon may help prevent Alzheimers disease.
Cinnamon may also help stop the destructive process of multiple sclerosis (MS) according to a neurological scientist at Rush University Medical Center, and Penn State researchers revealed that diets rich in cinnamon can help reduce the body's negative responses to eating high-fat meals.
Lemon has antioxidants and vitamin C which is always useful, but it's particularly great when the immune system is busy battling colds, flus and various bugs at this time of year.
3. Exercise! It boosts the immune system, causes a rush of endorphins and it is vital to balance your body and your brain to keep you healthy and happy. Here's a favourite video of ours that nicely sums up the benefits of exercise.
4. Smile and Laugh! It floods the body with feel-good chemicals called endorphins, it relieves stress, boosts the immune system, relieves pain, improves heart health (it improves blood vessel function and increases blood flow) and it fosters social bonding.
And it's 100% free, it has no side-effects (bar perhaps the odd wrinkle!) and almost everyone can do it almost everywhere, but best of all, it's contagious! So by making yourself happier and healthier, you're also helping others to do the same!
5. Remember the ratio 5:1 – Eminent psychologist Maureen Gaffney has found that the golden ratio of positive to negative thoughts that you need everyday to push (or keep) your life in a positive, fulfilling upward spiral is 5 positive thoughts to 1 negative. So keep that in mind throughout the day and pay attention to all the positives, there may be many more than you realise! For more tips on making 2015 your best year yet check out Gaffney's book called 'Flourishing'.